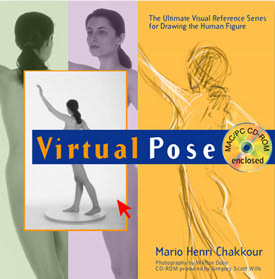 Vintage tutorial movie 1/4 from the Virtual Pose ® 2 companion CD by Mario Henri Chakkour, published in 2001. Back then, Hi8 Video tape still roamed planet Earth...
When Corel Corporation and The Art Institutes needed a practical, feasible, and elegant solution to bring their vision of a life drawing class that would reflect their corporate culture and image, they turned to Virtual Pose ®.
Yup, that's me, coaching students during such a class.